Hello everyone,
We lucked out again with the weather for the Meetup, once again. I *almost* cancelled the fundraiser after waking up to sheets of rain the morning of the Meetup. I figured who's going to want to show up in the pouring rain? I should have known better. There are a lot of diehard members out there! Thankfully, there was very little rain during the Meetup and it even warmed up a little with a clear sky towards the end. So I'd say my record for great weather at Meetups remains largely intact!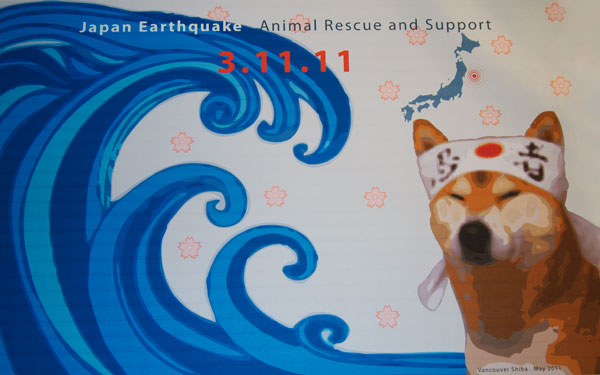 A very huge thank you to everyone who made a donation to Japanese Earthquake Animal Rescue and Suport (JEARS) at this very special Meetup. There were a few VERY large contributions from some members – you blew me away with your generosity! We raised a total of $1000 for JEARS – much more than I ever expected. Great job everyone!!
Thank you Antonio for providing the baked dog treats – Koshi loved the organic veal jerky. There are still a few bags of goodies left over and I'll be sure to bring them to sell at the next Meetup. Another thank you to Dana & William for that amazing sign! It was perfect for the fundraiser. Good thing you put the protective cover over it because it got peed on – several times!
Unfortunately due to less than ideal conditions, the planned photo shoot to raise money for JEARS was cancelled. We will try again at the next Meetup which will mostly likely happen in June.
I have included a copy of the PayPal receipt below I received for the donation made to JEARS (click image to see full size). The Canadian dollar is so strong right now that our $1000 donation amounted to $1008 in US funds. Gotta love that!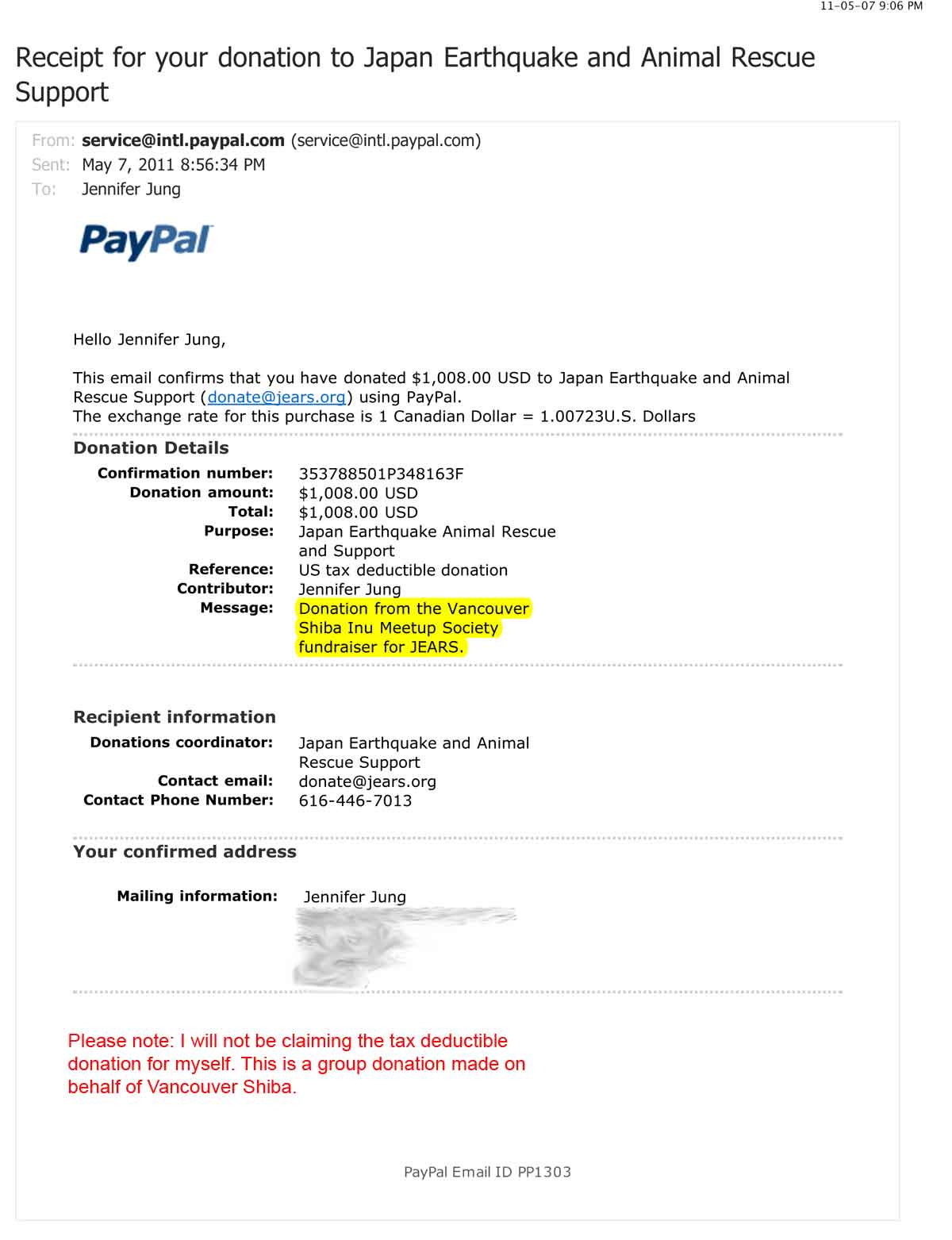 I am still awed and amazed by the sheer generosity of everyone. I just can't thank you all enough!
Jen, Koshi & Barkley
I have also included the email I received from David Wybenga, the co-founder of JEARS.
On Sat, May 7, 2011 at 6:02 PM, David Wybenga ‪<david @ jears.org>‬ wrote:

hello Jen,

Thanks so much – that is amazing!

My congratulations and appreciations to yourself and hardworking volunteers and supporters.

kind regards,




David