Hi everyone,
We had another great Meetup today, 25 Shibas in attendance. Not one our largest events but it was to be expected with the iffy weather. We got lucky again, it was mostly clear and only started to drizzle a little at the end. We had a quite a few new Shibas and people today that I've been in contact with over the months; it was great to finally meet you all in person. I hope you had a great time!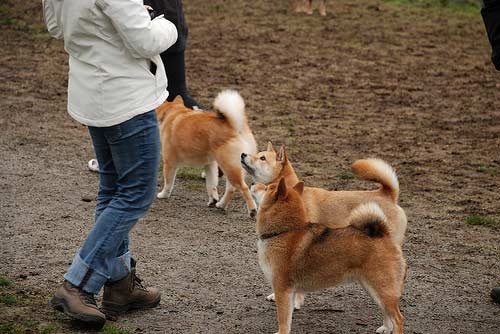 Thanks to all who participated in the raffle for the gift basket. We raised $137 for the SPCA's "Paws for a Cause" event taking place September 2009. The winner of the gift basket: Jen A.!! Jen is one of our Meetup volunteers but was unable to make the event today. She was busy raising money for the "No Puppymills Canada" organization at a craft sale and bought tickets in advance for the raffle.
There were quite a few presents for the gift exchange. We will certainly do it again next year! Eric and I were really pleased with the gift we received. Thanks Jadine & Ryan, we will put it to good use!

There was one extra present left behind. I think someone forgot to pick one out for themselves. So we can hold on to it for you, or donate it to another gift basket for a future Meetup, just let me know what you'd like us to do with it.
Eric has posted photos from today's event on Flickr. He is sorry to inform everyone that due to the weather he wasn't able to take as many shots as he usually does. Here is the link if you'd like to check them out:
November 30th, 2008 – Meetup Photos
Well everyone, it was a great year for the Vancouver Shiba Meetup group, thanks for making the events so successful. We will see you again in the New Year, most likely February 2009 if the weather cooperates. Organizing these events has been a great experience for me and very rewarding. I have made lots of good friends and it makes me so happy that our little organization can give back to the SPCA and make other animals' lives better. I look forward to seeing you all again next year. Have a great Holiday Season and try not to spoil your Shibas too much!
Jen, Koshi & Barkley