Hello everyone,
For the third year running, the Vancouver Shiba Inu Meetup Society will have a team entered for the BC SPCA's "Paws for a Cause" fundraiser.
I have registered us as team "Vancouver Shiba" for the walk in Vancouver. There will be no Burnaby area walk this year as the city has joined with Vancouver, West Van & the North Shore for one combined location. The walk will be held Sunday, September 12th at Stanley Park.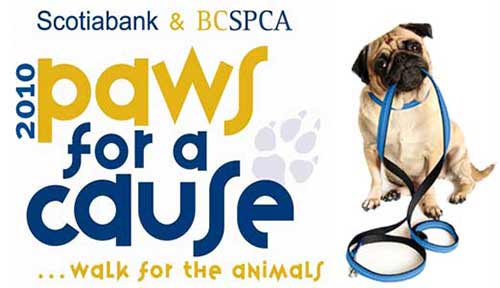 ---
If you are interested in joining the team, please click on "Join Team Vancouver Shiba". If you would like to sponsor the team by making a donation, click on "Support Team Vancouver Shiba!".
Paws for a Cause 2010 Links:
Information for people joining the team:
There is a $25 registration fee this year. It includes an event bag and a t-shirt.
We are doing the 3.5 km walk not the 5 km run (although any team member is more than welcome to do so!)
If a team member is concerned that they or their dog will be unable to walk a full 3.5 km, don't worry! The walk is optional and team members may give me their pledges to me and I will be sure to hand them in on registration day.
At this time, the SPCA has not received their paper pledge forms. They are however, available for download on the Paws for a Cause website. The paper pledges should be available any day now (according to head office) and I will make sure to have some for the July Meetup.
---
For the 2009 Paws for a Cause, we came up with some pretty amazing and creative ways to raise money for animals in need. We had the ol' standbys: bake sales, raffles for gift baskets, 50/50 draws, etc. And then we had an awesome t-shirt designed by our Meetup member and artist Jennifer Heine – we sold many t-shirts! We also held a silent auction for a lovely pastel portrait of the winning bidder's pet done by renowned artist Caren Heine. Thanks to the generous donations of Sheila & Pierre Lemaitre, we held a pet-related "garage sale" of sorts and we raised over $600! Not to be forgotten are the people who made a donation to the team and the team members themselves who did a fantastic job raising over $5700. When you add that to the money raised by the 2008 team, that is a whopping $9000 for the BC SPCA. I am hoping for another successful year for 2010.
If you have any ideas on how to raise money this year I'm all ears! And if you have any questions about Paws for a Cause, don't hesitate to ask!
Jen, Koshi & Barkley