Hello everyone!
A big thanks to all who attended the March Meetup and supported the fundraising efforts for SAINTS animal rescue/sanctuary. The grand total of money raised from treat sales, the raffle, t-shirt sales and a very generous donation (thanks Tom & Nadine!) was $720!! Awesome! Way to go Vancouver Shiba!
With my husband Eric now working in Ontario, I am the sole person organizing the Shiba Meetups until I can join him. Due to the fact that I am ridiculously busy trying to organize the sale of my condo and making arrangements to move, there won't be a Meetup for April. However, there will still be a big event being held at the David Gray dog park in April and I would like to encourage as many Shibas and people to attend as possible. I'll be there with Koshi and Barkley for a couple of hours!
A
friend and fellow animal lover – Burgundie – is hosting a "Dog Day at the Park" as her grand finale of three months of fundraising for SAINTS. There will be a BBQ by donation, beverages provided by Starbucks by donation, a raffle for a gift basket and much, much more! There will be a small number of SAINTS t-shirts available for sale as well. They are still accepting donations of gift cards (Rona, Staples, Canadian Tire etc.), Canadian Tire money and cash.
I have included the SAINTS wishlist
if you would like to help out this amazing organization. If you can help, please bring your donations to the event!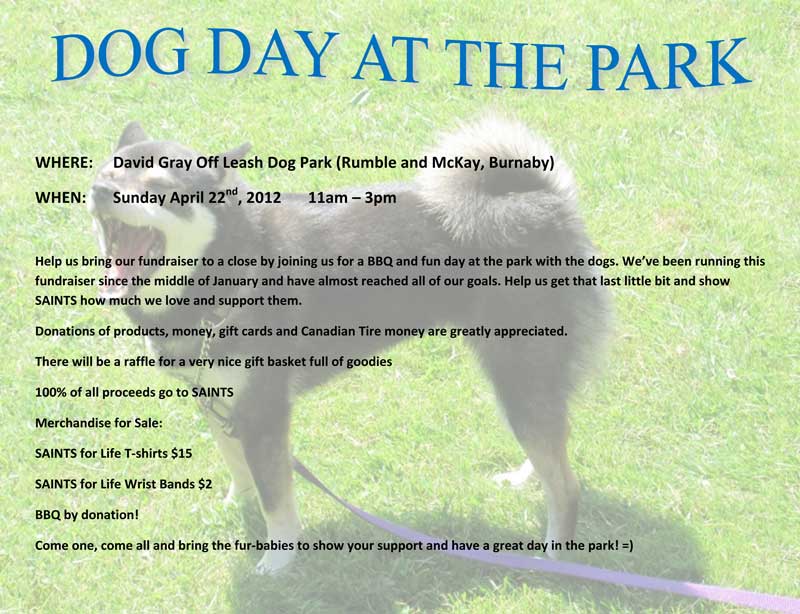 The

SAINTS' Dog Day at the Park
will be on
SUNDAY April 22nd from 11am to 3pm
at the David Gray dog park in Burnaby – McKay Avenue and Rumble Street. Parking is available on McKay Avenue, on either side of the street. There is an entrance to the dog park on McKay Avenue.
Directions to the dog park
Hope to see you all there! It would mean a lot to me and the SAINTS crew to see all the Shibas representing!
Jen, Koshi & Barkley